My Review of Textbroker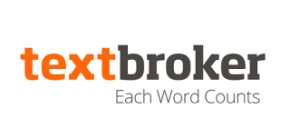 So here is my review of Textbroker and why I will never hire their writers.
Their writers should also know this because they lose money when clients don't use the site.
Details About Textbroker
Textbroker International, LLC
8076 W. Sahara Ave. Suite 200
Las Vegas, NV 89117
702-534-3832
Jan Becker-Fochler is the Founder and Chief Product Officer of Textbroker
Phillip Thune is the CEO
Tweets by PhillipThune
https://www.instagram.com/phillipthune/
My Review of Textbroker
So back in March 2019 I started to look into Textbroker first by signing up, and then contacting them with questions.
I got busy and didn't pick the e-mail back up until May.
Their site isn't intuitive at all. I couldn't figure out how to search for writers directly.
Seems according to some of the writers there plus their customer support, most people just put out a topic and several writers write about the topic and then the client pays for one or the articles.
I don't hire writers like that.
I need to talk to the writer, get a sense if I feel comfortable with them, then see their samples.
I also need to make sure that they either know how to use Word's Track Changes, or they are willing to learn it which is quite easy.
I edit all writer's work using Track Changes, and we go back and forth until the document/file is completely free of all errors and comment bubbles.
It's a very easy smooth way of doing things UNLESS the writer is terrible, then it starts to become stressful because the writer and I can see how many mistakes there are, or work that needs to be done.
In my many years of hiring writers which has been very stressful at times, as unfortunately, most writers are very insecure, immature, can be very vindictive, and also their EGO is very large, some have REFUSED to have their work edited, if you can believe that.
Any good writer KNOWS they need an editor to review their work.
Ask ANY best selling author if they would send their work to a publisher without at least one editor combing through the manuscript several times first.
Back to my Review of Textbrotker
After I wrote to a few writers, I couldn't find the area to see the message thread and the way they designed the message thread I couldn't even find what I had written, so my questions were going back and forth to support for the simplest of things that ANY site should be very clear on.
Here's what I was seeing in their messaging system.
See how they all go back and forth on the left and right?
Not to mention there was NO text. I couldn't see it.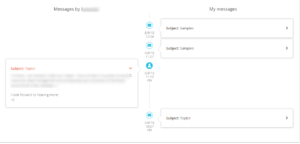 Then most of the writers weren't even available or didn't write back. I asked Textbroker to turn off their profile in the search results if the writers aren't available and they said they can't do that.
So here I am wasting time reviewing people's samples and then writing them a message all for nothing.
Also, several of the writers had no samples, and when I reached out to them I'd get the BS excuse that they have none, or that all prior work is protected under the previous client's NDA.
I always love the excuses people will make to AVOID showing that they don't know how to do their job properly.
Before you hire ANYONE, whether it's a writer, logo designer, graphic website designer, etc., they SHOULD have a portfolio of some sort.
Anyway, then a week or two went by and I was ready to hire.
I reached out to one of the writers, and I couldn't respond to the message we had going, so that was ANOTHER issue I had to deal with.
Turns out the writer deleted the message thread.
Why in the world would they do that, and why does the site even allow for such a thing? No other site I know of allows their members to delete messages from the other person.
You can delete your own message if you delete it within a certain period of time, but you shouldn't be able to delete the other person's message.
Clearly this site was poorly designed and coded.
So I had to start a whole new message thread which I don't like doing because I like to re-read conversations to remind myself of what happened.
After telling him or her (for some you can't even tell the gender) that I will want to make changes to the work via Word's Track Changes, not only did they NOT have Word, they said sending files back and forth wasn't allowed.
What kind of a REAL writer doesn't have Word??? LOL
So I wrote to Textbroker starting to get upset now because this is how I work and I can't change things just for them.
This is when things got confusing and went from confusion to me getting really upset.
First, they wanted me to use Google Doc which does NOT have all the features that Word's Track Changes has.
Then they said I can ONLY send it in view mode, not edit mode. LOL
What good is that???
So the writer will see the changes I made, then have to spend hours going back and forth between their copy and my copy trying to make the changes?
Then at some point we agreed I could use Word, but the way it was going to be done was going to take soooo much work, I was shocked at how controlling they were. Not only that, they wouldn't even be able to accept/reject my changes OR comment on my questions/comments.
Here's what they said:
"You can upload a Word do to Google Docs (or another file sharing program) after you've made your changes. When you send the link through to the author, we'll then review the document to double check that it is not editable and that there is no contact information. The author can then download your changed copy and work on it on their computer. Then they can send it back to you the same way you sent it to them.
So, yes, you can use tracked changes in your word doc, but when you send the document to the author via Google Docs, the share setting needs to be set to "view only." In lieu of this, you can also just forward us the document and we will send it to the author on your behalf. Please just ensure that your name and contact information are not in the document."
So that was the first issue that literally floored me because I was ALL set to hire them and I wasted my time going back and forth NEVER thinking for one minute that I can't even edit a writer's work without it being a HUGE drama.
In the previous e-mail the girl said you can't communicate with the writer outside the site as you have to adhere to their TOS.
Since that comment came out of the blue, I was shocked and I asked why would you even say such a thing.
I'm talking about Word, Track Changes and editing, and they bring up violating terms of service.
In the next e-mail from the manager I get, "I'm glad to hear it isn't your intention to work with our authors offsite, as that would be a serious violation of our TOS."
I took that as a STERN warning which REALLY pissed me off.
They also said, "Please just ensure that your name and contact information are not in the document." and then in another e-mail, "just as a reminder that when sending Word docs, make sure your contact information isn't in the document."
Who puts contact info in a Word doc unless it's the closing of a contact page for a site?
In ALL the years I've been dealing with writers, they've never once put their contact info in a Word doc., and I've never once put mine in there.
So why even bring it up?
Even though she tried to make light of everything they had said to me saying these rules are in place for everyone, not just for me, I felt like I was dealing with a tyrannical company and I've never felt that way before about a third party freelance site.
I no longer felt understood, trusted, and I felt like they were warning me OVER and OVER again on something that hadn't even crossed my mind and had come out of left field.
Had they just brought it up in a matter of fact way and only mentioned it once, I proabably would have been fine, but that's not how things played out. Their repeated warnings sounded severe, and so I finally had enough of this company.
Due to their poor communication skills, and their distrust of ALL clients, they lost me.
And of course they didn't even care, because I wrote a long e-mail and the manager, Carlene Palm, didn't even make one attempt to try and keep me, although robotically she said she's sorry I feel that way. LOL
The entire experience from the first day until a month later was stressful, and if you already distrust your clients before they've even spent one dime on you, then you shouldn't even be in business. And I had a lot of work I could have given them had they had good writers for me.
I get that they've had issues with writers and clients going off book, but not everyone is like that. You must be very delicate in how you warn your potential clients, otherwise you risk alienating them.
Their job is to make things as easy as possible for the client, make them feel comfortable, not to get the client all stressed out dealing with their company.
The only thing they did well was respond to my e-mails quickly.
Michelle