Motley Fool Financial Services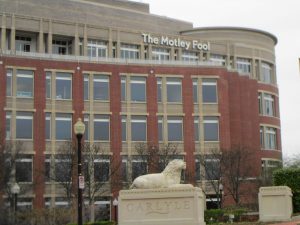 Motley Fool Expose Wall Street – 703-838-3665 – 2000 Duke St 4 Alexandria, VA 22314 – https://www.fool.com/
Motley Fool Expose Wall Street has been harassing me non stop on the phone since around the beginning or mid of February 2017. I didn't try to track them down right away because I thought telling them to remove me from their list would do the trick.
Every time they called from this number 310-695-1878 and it said Inglewood, CA.
I knew it was some Filipino call center who:
either didn't say anything after I would say, "hello, hello," This happened numerous times.
they would answer,  give me their sales pitch, I'd tell them to remove me from their list (sometimes screaming) and then they'd either say they would, or hang up on me. Some were even downright rude which surprised me, because as stupid as Filipinos are, they usually aren't rude.
they also refused to give me a manager, refused to give me the phone number to Motley Fool, refused to give me their website, or anything that would allow me to track these harassing calls down.
Finally on March 16th I tracked down the phone number for Motley Fool (703-838-3665) and asked to speak to the manager. I did find it suspicious that their phone number wasn't readily available.
I got Andy O'Sullivan on the phone and he claims it's not them, that he knows nothing about it, but will get their lawyers right on it. He sounded really irked almost as angry as I was. I gave him all the info he needed to get started.
Within a day or two I got another call from their cheap Filipino sales call center, and this time I recorded it just for Andy. I called and left a message for Andy O'Sullivan on his voice mail. Never heard back from him.
On March 20th I got another harassing phone call. At this point I was starting to get suspicious as to why Andy hadn't called me back. If Andy O'Sullivan was telling me the truth and he REALLY didn't have anything to do with the harassing phone calls, then why wasn't he calling me back?
I called Motley Fool again and was passed through to Andy's voice mail again. I even had the girl at reception take my info down. I told him that if I didn't hear from him again I was going to contact the FTC. AGAIN never heard back from him.
I then put my phone number on the DNC list. That stopped the calls for two months until just yesterday on May 15, 2017 when they started back up again. I've already gotten two phone calls since then.
I just filed a complaint with the FTC against Motley Fool. I hope this solves the problem.