Zahi Haifa & John Woelk
519-791-2868
[email protected]
Century 21 Erie Shores Realty Inc. – 519-326-8661
Zi's number – 519-816-4488
Property – 51 Cherokee, Leamington, Ontario, N8H 3G5
So here is my story.
I found their ad on www.Kijiji.ca for their house for rent short term.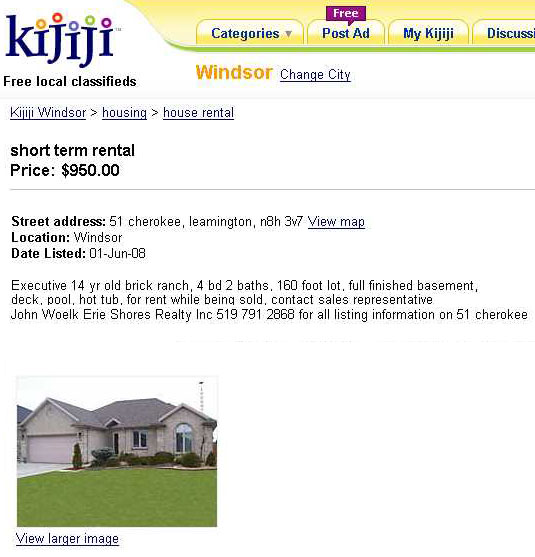 I called them anyway to discuss whether we can do a 1 year lease, & who knows, if I liked the house, I would buy it at the end of the 1 year.
The guy John passed me through to Zi saying he was his partner, & they owned the house.
I started getting interrogated right from the getgo about whether I can really afford the rent, what do I do & if they were my client what would I be selling them.
I started to get the feeling they were scammers, or something was very fishy, so I passed the address along to my Realtor to check out if it was really legit.
John sent me pictures of the house, but never returned my e-mail when I told him I wanted to see it.
In the meantime my Realtor was trying to set up an appointment to see the house, & finally Zi called her back & we booked. She told him outright that I was ONLY looking to lease.
She told me on the way there, that Zi kept calling her several times over the last 2 days very anxious to rent out the house, asking whether I was going to like it, how he would clean it, do something with the kitchen island, etc.
Once again I got the feeling that something was fishy.
When we got there, I suddenly started to realize what was going on.
The house was a mess. It looked NOTHING like the pictures we were shown.
The ensuite toilet didn't work, one of the outlets was punched in, the place was filty dirty, it looked like it hadn't been cleaned in years, the window sills needed a new coat of paint because even washing them wouldn't get that dirt out I was sure, the water tank was leaking, you couldn't open one of the doors in the basement without struggling, one of the rooms in the basement had no face plates on any of the light switches or outlets, the MBDRM closet had problems with the rods, one was loose, the other had been torn out of the wall, there were no phone jacks in most of the rooms & the ones that were there were old & cheap looking.
So I made a list, & my Realtor said she would talk to them about it.
I was really concerned that if I did want to take the house, that it would never be ready in 2-3 weeks time.
When my Realtor got back to her office to call this Zi, they guy was a *)%$$. He said "Oh, I thought you were interested in buying, it's already been renting out." & he got off the phone. No apology, nothing.
We had just wasted a whole bunch of our time with these liars. Do you know that it takes an hour to drive to Leamington?
They knew damm well that I was looking to rent, she told them that, & they had an ad out there which was the ad I originally responded to.
In fact, I don't even think they rented it out, I'm almost positive that he was lying.
I was very skeptical of them to begin with, & I can see why. I would NEVER have these 2 as landlords, they would probably lie their way out of fixing anything in the house because unfortunately that's what most landlords do.
Unfortunately a lot of landlords scam renters by renting out a house they never plan to take care of, then they make the client (the renter) pay for all the maintenance even though that's against the law.